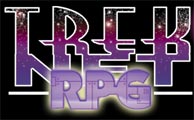 Welcome to the Starfleet Memory Prime Database. Please select the data you wish more information on:


Netbooks
Internet-distributed sourcebooks (and previews) in Adobe Acrobat format.


Icon Links
Official supplementary material provided by Last Unicorn Games.


Character Sheets
Starfleet, Klingon, Romulan, and many others.


Handouts
Maps, displays, props, and other items suitable for giving to players.


Software
Character generators and other programs designed to make the Narrator's job easier.


General Play Aids
Ship displays, reference charts, skill lists, and more.

Star Trek® and all related marks ™, ®, & © Paramount Pictures. Star Trek The RPG™ and all related products are © Last Unicorn Games, Inc. Individual works are the property of respective authors and may not be reproduced without permission. HTML code, layout, and custom images are property of TrekRPGNet and may not be reproduced without permission. See the legal page for more information.