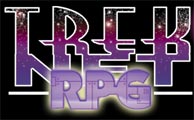 Stardate 0419.02
Today, our fourth preview of Player's Guide. This one is an excerpt from the Starships chapter and the Galaxy-class starship. Click to enlarge.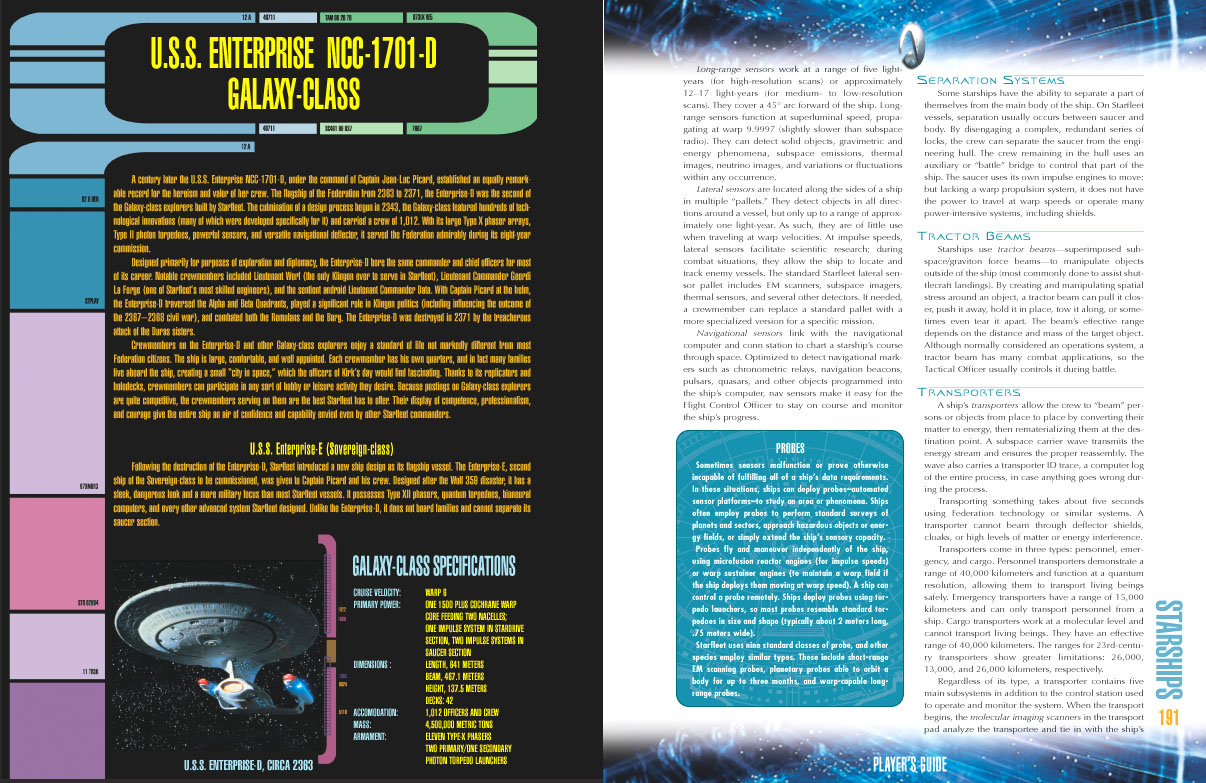 Stardate 0417.02
Another preview to share, this time from the skills chapter. Read up on how specializations are handled! (Click to enlarge.)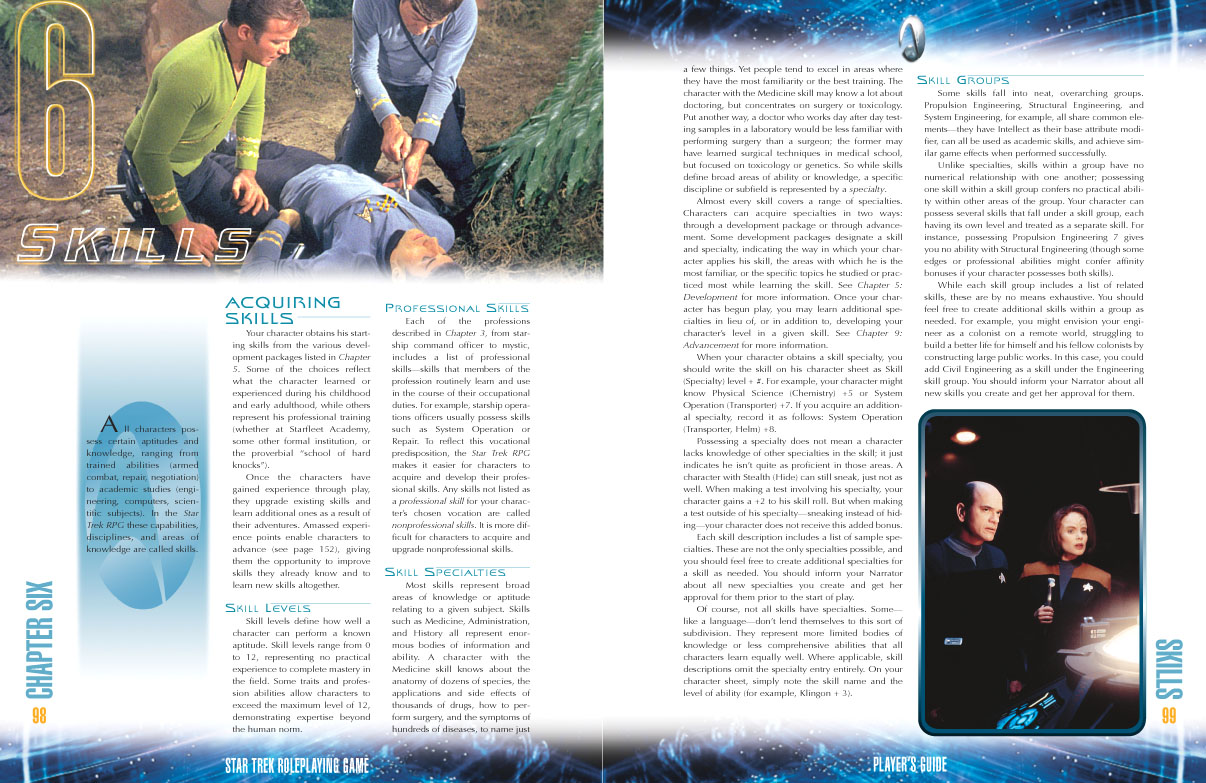 Stardate 0415.02
I've received more exclusive sneak peeks from the Player's Guide today. I'll try to share them through the week. Click on the picture below to enlarge.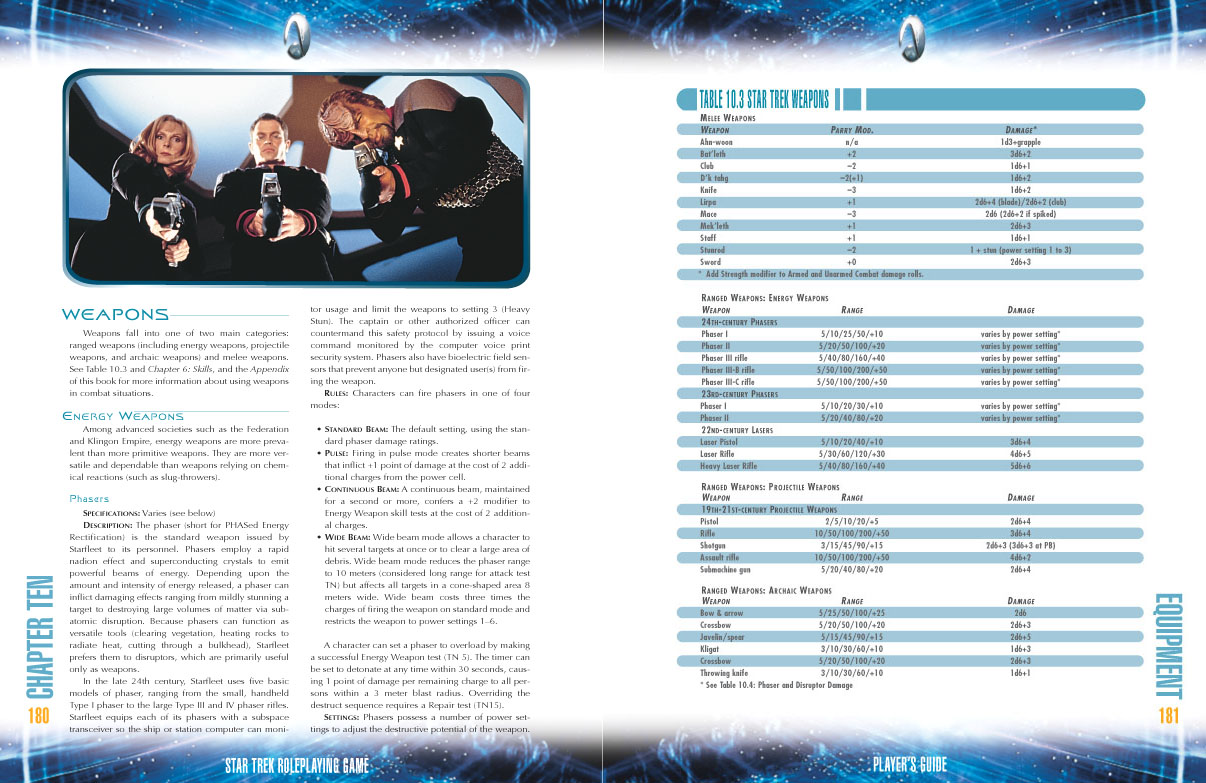 Sunday's chat went quite well and we hope to have a transcript available of the two hour session shortly.
Stardate 0414.02
A reminder about tonight's chat at 7pm EST (4pm PST) on Magicstar, channel #TrekRPG. Doug Burke, Decipher NetRep and Don Mappin, Coda system contributing author and designer, will be answering your questions. Two copies of the Star Trek RPG Player's Guide will be given away afterwards! If you aren't familiar with IRC you can use our new Java-based chat applet to participate from your web browser.
Stardate 0413.02
Lots of housekeeping updates around the site to try to keep slightly current until the new system is online.
Update: Our new Java-based chat applet can be found here!
Stardate 0412.02
Now at TrekRPGNet, an exclusive look at a two-page spread from the Player's Guide. Click on the picture to enlarge!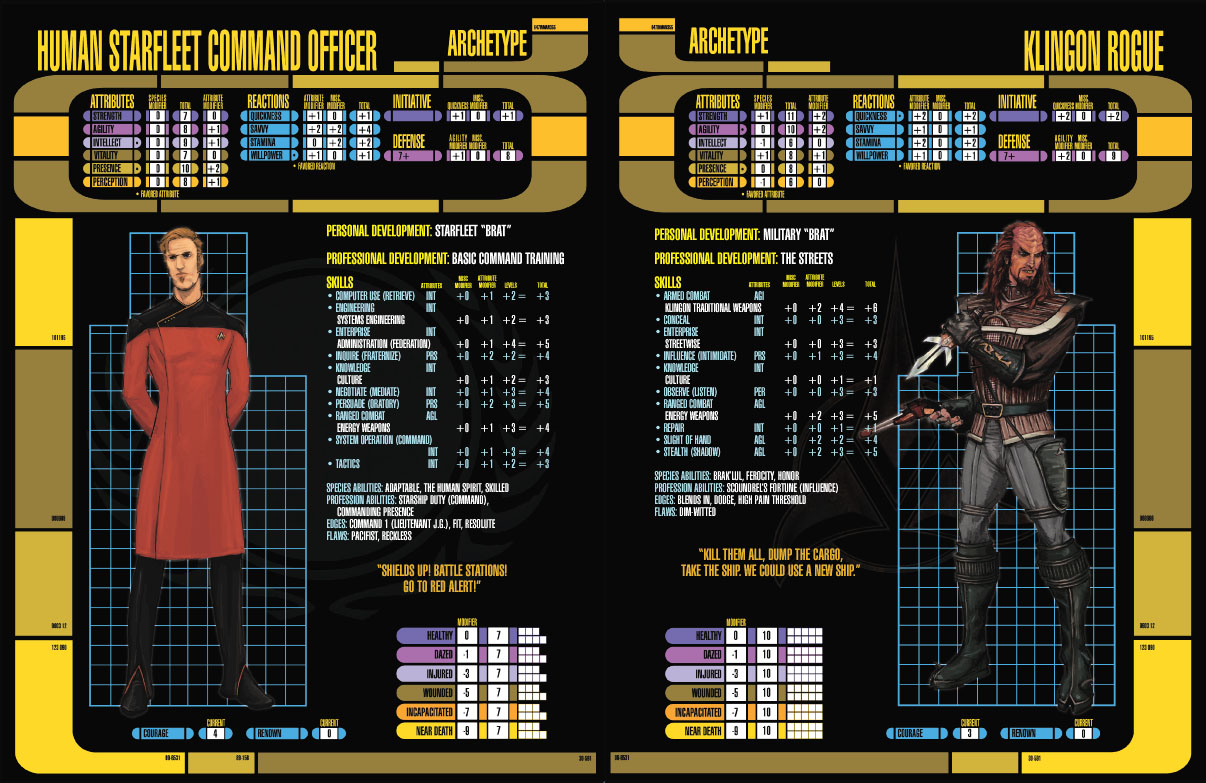 As a reminder, this Sunday on the MagicStar IRC Network, Doug Burke, Decipher NetRep and Don Mappin, Coda system contributing author and designer, will be participating in an online chat. The chat is at 7pm EST (4pm PST) on channel #TrekRPG. Two copies of the soon-to-be-released Star Trek RPG Player's Guide will be given away to two lucky winners! Read about the chat here. (Transcripts will be available afterwards.)
Also, the TrekRPGNet Forum is getting a lot of work as we prepare for the upcoming release of the new RPG. Stop by and check it out!
Stardate 0410.02
More information from the folks at Decipher, this time a posting of the covers for both the Player's Guide and the Narrator's Guide. The Player's Guide is shipping to distributors right now and should be on store shelves very soon. The Narrator's Guide goes to the printers in the near future.
Stardate 0409.02
There have been several updates on the Decipher web page, including a posting of the Star Trek RPG product schedule. You can view the schedule here. The Star Trek RPG Player's Guide is slated for release on April 24th.
Also, a preview of the contents of the Star Trek RPG Player's Guide can be found here.
Stardate 0319.02
That's right, the next installment of ship recognition manuals from Steve Long, Starships of the Klingon Empire, is now available! Warp over to the Netbook section to download this latest FREE supplement weighing in at 108 pages. Another TrekRPGNet exclusive!
Stardate 0127.02
Yes, contrary to rumors I am still alive as is TrekRPGNet. I know you haven't seen much from us but the domain problems have kept us down. Hopefuly those will be resolved in the very near future. In the meantime, don't forget that our forums are still operational at http://forum.lotrrpg.net.
Today we're pleased to offer a new download, Steven Long's second ship recognition manual, Starships of the Cardassian Union. Poke over into the Netbook section to download this full-length RPG accessory! A TrekRPGNet exclusive!
---
Stardate 1109.01
I have two important announcements that affect your ability to reach TrekRPGNet and the forums during the immediate future:
1) Due to a mix-up in the domain registration system, the TrekRPGNet domain is being transferred. Unfortunately this will result in a removal of the domain from the Internet DNS servers for a period from anywhere from several days to a month or more. This will make, understandably, reaching the site difficult. :)
In the interim, the server to continue to reach TrekRPGNet will remain:
http://216.40.212.6
Write it down, memorize it, or even bookmark it. Once the domain entry is removed this will be the only way to reach TrekRPGNet (except as noted below).
2) TrekRPGNet is also pleased to announce the creation of a new domain, www.lotrrpg.net, for the new Lord of the Rings RPG. This domain will become available shortly and will map to the existing TrekRPGNet site within the next 24-48 hours. In addition the Lord of the Rings RPG forums will be made live.
So, in summary, in the next few days the trekrpg.net domain will stop working. You will have three options to reach the site and forums:
http://216.40.212.6
http://www.lotrrpg.net
http://forum.lotrrpg.net
I apologize for the short notice and inconvenience.

---
I know many of you are worried since there have been few site updates the past several months. This is due to the transition of TrekRPGNet to a purely database-driven architecture that will allow for faster updates in the future and flexibility. The old system of static HTML pages was becoming too wieldy to maintain.
Since we are, technically, in between iterations of Star Trek RPGs at the moment, this transition was started now rather than later. We are almost done to unveil the new TrekRPGNet site.
With that said, all existing Icon content will remain, easily available in its own section and all material currently in the submission queue will be reviewed and put online when possible.
---
In Loving Memory
Donald Herbert Mappin
1923-2001
On the evening of August 3rd, at eleven pm, Donald Herbert Mappin passed away in his sleep at his home in Caldwell, Idaho, ending his brief battle with cancer. At his side was his wife of 33 years, Carol.
Of his life, to which he stated he had no regrets, he spent the majority at sea as captain in the merchant marines. He availed himself of the opportunity to travel and see the world and took comfort in the fact that he was able to experience so much more than most people. After his retirement Donald could be found working in his small garden, pursuing his enjoyment of digital photography, or working on his latest novel and screenplay.
He is survived by his wife, Carol, as well as his son Don and granddaughter Alloryn of Salt Lake City.
His strength and charm will be missed. Thank you.
---
Stardate 0718.01
New in the Utopia Planitia Shipyards today: the Ferengi Cargo Shuttle and Ferengi Shuttlepod, by Dan Gurden.
- Keith
Stardate 0614.01
Lots of updates in the Tactical section this week. First of all, we've got an ambitious new adventure by French Narrator Pascal Teva Bordron. The adventure, "Return to Nimbus III," is one he ran at a Star Trek convention in France. We've also got two new character packages: Law School and Starfleet Staff College, both provided by Pookie. And the esteemed S. John Ross has provided us with a comparison of the TOS and TNG warp scales.
Elsewhere on TrekRPGNet, we've got new artwork by J. L. Allman and Lars Hagman (Visual Ref), new links in the Transporter Room (to The Big Bad Ferengi/Orion Equipment Price Guide and Star Trek Game Indexes), and even a few new comments from our always-supportive visitors.
- Keith
Stardate 0612.01
We're proud to present the official Starfleet Academy diploma from the SFA boxed set (Computer Core / Icon Links). If you're using version 5 of Adobe Acrobat Reader (available here), you can fill in the fields on this form with your character's name, degree, and graduation date! Thanks to Don for putting in all the work to convert this beautiful document!
Other new material online: starship stats for the Galaxy-class Refit as seen in the final TNG episode "All Good Things" (Utopia Planitia section), artwork by new artist Andreas Oeltjen (Visual Ref), and a new NPC, Planetary Sciences Officer Brian Jackson (Personnel).

- Keith
Stardate 0531.01
If your printer has any ink left in it after printing out the Dominion War Sourcebook, use it on the gorgeous cover that Alexandre Maier designed to go along with the sourcebook.
More recent additions include a guide to martial arts (suitable for printing so each player can have his own maneuvers handy) and deck plans for the Klingon Bird-of-Prey and the Maquis Raider. (Martial arts are in the Computer Core / General section, and the deck plans are in Computer Core / Handouts.)

- Keith
Stardate 0508.01
Surely it must be a sign of the apocalypse, because we offer yet another update for your viewing pleasure. This time an editorial from our Priority One section.
Stardate 0507.01
We're probably spoiling you with all these new releases, but here's another one: The Dominion War Sourcebook is now available! You can find it in the Computer Core / Netbook section.
Mighty thanks go to the esteemed Steve Long for providing this manuscript to the public!
- Don
Stardate 0504.01
More updates: we've added a new ship (Freedom-class), an unofficial Starfleet Academy character sheet, and the funny-yet-useful Babble Chart to aid Narrators in making up their own official-sounding technobabble.
- Keith
Stardate 0429.01
This weekend's updates: we've got a Tholian image from new artist C. Huth, Starfleet-style blank handout sheets in the Computer Core (Handouts section), and images for the Raider Class Escort and Breen Battleship on their respective Utopia Ship Yards data entries (thanks to redwood973 for tracking down the Raider).
- Keith
Stardate 0425.01
Now online, a Priority One communiqué' on the the new RPG from Decipher. Get the details here first!
(Three updates in the span of a week -- who would have thought it!) ;-)
- Don
Stardate 0424.01
This is the week for links...we've added four new sites to the Transporter Room. Three of them are online campaign sites, and the third is Owen Oulton's awesome Oberth-class deck plan site.
Also, we've got a new artist in the Visual Reference section: Carey Inman. Check out his computer-generated images of a new ship class, the U.S.S. Union.
And, while I was down in the engine room, I tweaked the Visual Ref section to provide thumbnail previews of the larger images. Now you can see Richard Spake's voluminous gallery in a single glance! Well, maybe two. Plus I cleared out some old links in the Transporter Room. Ahh, spring cleaning.
- Keith
Stardate 0418.01
The much-requested Crew Roster Generator Spreadsheet by Phil O'Neill is now available in the Computer Core (Software). We've also added three new species templates, and an NPC template for the Emergency Medical Hologram.
- Keith
Stardate 0408.01
I'm not normally one for self-promotion, but allow me to take a moment to announce the latest addition to the TrekRPGNet family -- Alloryn Ann Mappin. Born April 5th, 2001 at 11:36 pm MST. She's a well-mannered, 7 lbs, 14 ounce, 22 inch long bouncing bundle of joy!
Probably no updates for a little bit, as I'm quite busy. In fact, I fly out on Monday to Los Angeles to help work on the the new Star Trek RPG. Be on the lookout for a follow-up report with lots of new information on the RPG soon.
- Don

---
Stardate 0321.01
To your lower left you should see our new voting booth. This one is Netscape-friendly, so vote away! The question put before you this time, "Which book format would you prefer for the new Star Trek RPG?"
Stardate 0316.01
Just prior to the launch of this year's GAMA convention (The Game Manufacturers Association), Decipher, Inc. issued a press release regarding their newly formed RPG division:
LAST UNICORN GAMES' DEVELOPERS JOIN DECIPHER
Company Moves Forward with Star Trek™ Roleplaying Game

(Norfolk, Va., March 16, 2001) - Decipher Inc. announces it has hired the former staff of Last Unicorn Games, Inc. Noted for the creation of more than 20 Star Trek™ RPG products, as well as the popular Dune RPG, the Last Unicorn staff will form Decipher's new roleplaying and miniature games development team.

The seven-person team hired by Decipher includes Last Unicorn Games' former president Christian Moore who will head up Decipher's RPG and miniatures division, operating out of Los Angeles. Initially, the division will concentrate on development of the Star Trek RPG as a result of Decipher acquiring the license last year.

This announcement follows Decipher's recent acquisition (January 2001) of the entire staff and assets of Fantastic Media, the longtime founders and operators of the Star Wars and Star Trek Fan Clubs. Decipher will now manage the operation of the official Star Trek Fan Club, operate the startrek.com online store and publish its bi-monthly Star Trek Communicator magazine.

Decipher CEO Warren Holland said, "We are very excited to have Christian Moore and his talented team of designers become part of the Decipher family. Last Unicorn created some of the most beautiful RPG products I've ever seen."

"I have always admired Decipher's bold creative and aesthetic visions for their product line. I think this move represents a natural fit for us. It almost feels like coming home," said Christian Moore, Decipher's new RPG and miniatures product manager.
While this doesn't come as a surprise to TrekRPGNet, it's certainly good news for Trek RPG fans everywhere, especially those who were worried about what a new Trek RPG would look like on the heels of the one developed by Last Unicorn Games. For those curious, the seven members are: Christian Moore, Owen Seyler, Ross Isaacs, Matt Colville, George Vasilakos, Steve Long, and Ken Hite.
Also available on Decipher's web site is a Real Audio interview with Christian Moore. He discusses, among other things, the support of TrekRPGNet, what future books will look like, and support for the old Icon System. You can listen to it here. (You'll want segment three.)
Finally (there's more?), with this news officially out of the bag, we'll see about posting some new voting booth questions around this issue. (Don't worry, we'll fix the voting booth for you Netscape users.)
- Don
Stardate 0308.01
We've added a couple of new NPCs in the Personnel section, and some way cool artwork in Visual Ref. Darren Calvert has sent in a stylish computer drawing of a Bolian commander, and J. R. Allman submitted some images that are used as sort of "title screens" to two TrekRPG campaigns. Very good stuff!
- Keith
Stardate 0207.01
By popular request, we now have functionality for a real voting system! Our crack team of vote certifiers, imported directly from Florida, will tabulate your votes on the question at hand! Our first item: Which sourcebook would you like most to see from the available list? (In the interest of fairness, please, only vote once.)
Stardate 0204.01
Keith and I have put a lot of work into the redesign of the TrekRPGNet Computer Core. The volume of material made it difficult, in the past, to find what you were looking for. Well, no more! Now everything is neatly tucked away in organized categories with descriptions and links. We're still adjusting some of the format, but I wanted to share it with you now as we've also put online the old Last Unicorn Games Icon Links. I was able to save them prior to the LUG site being assimilated by Wizards of the Coast, and given permission to provide them here. Enjoy! You can also find the TrekRPGNet Netbooks through the Computer Core as well.
Also, a request... (begin rant mode)
Please stop contacting me for information on the "trekrpg" Internet Mailing List hosted by RPG.net. I am not affiliated with either the list or the RPG.net web site, and am no longer the list administrator. I, thankfully, abandoned that sinking ship months ago (best thing I ever did). For those of you who wish more information on the list, and its status, I would refer you to RPG.net. (Good luck in getting a response.)
And, if I may, I would recommend our threaded Discussion Boards here at TrekRPGNet as a more convenient way to discuss Star Trek and the various incarnations of the RPG instead of the mailing list. We have over 22,000 posts organized through six public forums. Our forums are free, available though any web browser anywhere, threaded, organized, allow for HTML, and, best of all, moderated to keep discussions civil. (End rant mode)
Thanks for visiting!
- Don
Stardate 0121.01
Hi folks! Doug here. Just wanted to let you know that Keith and I have made some more updates to the site. I apologize for the delay, but think you'll enjoy what we've added. The updates include two new species for the Species Data Bank, a collection of Background History packages, a new ship in the Utopia Planitia section, some more artwork in the Visual Reference Materials section, and a brand-new Dave Biggins Adventure! This should whet your appetite for the other things we will be adding soon.
-Doug
Stardate 0113.01
I am pleased to announce the Grand Opening of the TrekRPGNet Online Store! At this time, our Online Store stocks the entire Star Trek RPG line from Last Unicorn Games, with a discount of 20% off all products! The TrekRPGNet Online Store allows you to support your favorite web site (us!) while receiving discounts on that hard-to-find Star Trek RPG product. (Best of all, we don't intentionally overcharge you on shipping and your credit card is only charged once the order is confirmed and the order ships.)
In the near future we will have additional TrekRPGNet merchandise, such as t-shirts, mouse pads, and, of course, those highly sought-after mugs!
So check out our new Online Store and tell us what you think!
---
Stardate 0112.01
Update! - Everything appears to be working correctly now. I'll be monitoring the situation closely!
As many have you have noticed, the Discussion Boards are down. It is not an error on your or our end -- it is the result of some changes from our hosting provider. I am diligently working with them to resolve the issue ASAP!
- Don
Stardate 0104.01
The Christmas gifts just keep rolling in...
Two former writers for Last Unicorn Games, Steve Kenson and S. John Ross, have made their unpublished Star Trek material available to the public. Steve Kenson's work includes three chapters from Ash & Iron: The Cardassians, two from Blood & Honor: The Klingons, two from The Starfleet Security Handbook, and four each (!) from Merchants & Traders and Through a Glass Darkly: the Mirror Universe. S. John Ross's work comprises species writeups on Deltans and Regulans from Final Frontiers (the Movie Era sourcebook), an in-depth description of Rigel III from Sky Princes of Orion, a "brief snippet" about Mirror Andoria from Through A Glass Darkly, and Narrators' advice from Blood & Honor, Starfleet Security, Merchants & Traders, and To Boldly Go. Whew!
Visit Steve Kenson's site, "Star Trek: The Lost Episodes," here, and S. John Ross's "Untaken Treks" here.
Stardate 1231.00
As our final gift to you for the Millennium, TrekRPGNet is proud to provide the companion book for Spacedock, the Ship Recognition Manual, Volume 1: The Ships of Starfleet! (Wow, some title!) You can download both books online, exclusively through TrekRPGNet, here!
Have a safe New Year!
Oh yes, it's that time again -- time to vote for TrekRPGNet. Death to the opposition!

Stardate 1212.00
If anyone has visited the Last Unicorn Games web site recently, you will notice that the pages are gone and the site now references you to the Wizards of the Coast site. As part of this transfer I was asked to also delete all content from the previous LUG site.
This includes all errata, Icon Links, and downloads.
I, on behalf of all LUGTrek gamers out there, requested quite humbly, that TrekRPGNet be allowed to host said material in an effort to make it available to the community, long after the LUG site has gone. This was also in part because I knew Wizards had no intention of supporting any of the old LUG material, and items such as the Icon Links, would be lost forever.
I am happy to report that my request was granted, and after a short period where I transfer the content over, the official LUG errata and Icon Links will be hosted here on TrekRPGNet!
Also, for the duration of the Star Trek license under Wizards of the Coast, TrekRPGNet has been designated as the "Star Trek RPG Official Fan Site." This is more amusing than anything, but appreciated. After January 1st, 2001, when the license transfers to Decipher, the designation will no longer exist.
So, there you have it. A small, but important, victory for LUGTrek.
Regards,
Don
Stardate 1207.00
I'd like to thank everyone for thier efforts in making TrekRPGNet the #1 RPG site on the RPG Gateway Top 100 for the month of November! It's now a new month, and a new opportunity to keep TrekRPGNet on top -- two clicks is all it takes and we appreciate your support!

The demand for Spacedock has been overwhelming, with over 1,000 downloads in the past week. For those waiting for The Ship Recognition Manual, Volume 1: Starfleet, just wait a little longer now! (You can download Spacedock here.)
- Don
Stardate 1130.00
I'll keep this short and sweet -- Spacedock is now available for download from here.
Wild adulation and applause to Steve S. Long for making this wonderful book available to us all! Thank you Steve!
Stardate 1125.00
Keith here -- Doug and I have made our first updates to the site...we've got NPC Helena Mudd, a Flight Academy training package, and some new links in the Transporter Room. More to come soon!
Keith
---
Stardate 1109.00
In the spirit of voting this year, I'd like to ask TrekRPGNet visitors to help vote for us in an effort to increase our visibility. There are still a lot of players of the Star Trek RPG by Last Unicorn Games that are only finding out about TrekRPGNet now, after two wonderful years! Use the link below:

I would also like to welcome Doug Burke to the TrekRPGNet team at this time. Doug, working closely with Keith, will help add all the new content that we have online. Even though TrekRPGNet is already the largest repository of Star Trek information for the now-defunct Star Trek RPG, we have plenty more great material to share with you all. Be on the lookout!
Stardate 1022.00
I would first like to welcome Keith Garrett aboard as a new TrekRPGNet Content Editor. Keith will be heading up the addition of new material to the web site while I keep myself busy with many other projects. A big welcome to Keith!
Look for a "freshening up" of the Discussion Boards soon and a new style format throughout the site. For those that link to TrekRPGNet (thank you, very much), here's a new linking banner to play with:

Finally, I've got a new contest coming up to win some more free LUG product and we're participating in a number of external linking sites to get TrekRPGNet some additional exposure. Your help in "spreading the word" is greatly appreciated!
---
Stardate 0926.00
With all the changes going on (primarily the news on Decipher), I've written a follow-up editorial in the Priority One section, titled Past, Present, & Future, Part II. My thoughts on the Icon System, Decipher, and what the future holds for TrekRPGNet.
---
Stardate 0730.00
I'm probably scaring a few of you with all these updates! I've posted some new content online today and also a Priority One article discussing TrekRPGNet -- Past, Present, & Future. My thoughts on the Icon System, The D20 System, and what the future holds for Star Trek role-playing.
Stardate 0723.00
As promised, the exclusive PDF preview of The Klingons: Blood and Honor is now available! You can download the first installment here! (Adobe Acrobat Reader 4.0 required.)
Stardate 0721.00
For those of you who didn't know, the purchase of Last Unicorn Games by Wizards of the Coast is now complete. What a lot of people are wondering, however, is what exactly this means for their favorite Star Trek RPG. Icon System gone? D20 System in? Will any products be seen in the near future that are complete?
Somewhat related, a news leak obviously not intended for the general public got out, in which WotC announced plans (to retailers) that a very limited print run of the Dune RPG, using the Icon System, was planned. It seems, however, that if you want to get one of the limited 3,000 copies you'll need to be at Gen Con this year. There are no plans to support this RPG using the Icon System -- it's a one-shot affair with a D20 version coming out later.
Frustrated by the silence? Tired of the rumors? Well, we've thrown together a quick poll that you can take to make your voice be heard! The results are available online, in real-time, so you can see what others think as well. As always, our Discussion Boards are available to exchange messages with other LUGTrek fans.
Finally, two last bits: sadly none of the entries of Last Unicorn Games won this year at the Origins Awards. Congratulations to all the winners! Also, the often-mentioned, but as yet unseen PDF preview of The Klingons: Blood and Honor will go up this weekend!
---
Stardate0617.00
It looks like the move is complete (on my end). There are still some bugs being worked out on the Discussion Boards. Some DNS zones may take a few days to update with the new IP.
Happy birthday, Cami!
---
Stardate 0613.00
Nothing is constant except change. First, as most already know, Wizards of the Coast has signed a letter of Intent to purchase Last Unicorn Games. At this time the exact details are still under wraps. What this means for the future of LUG, the Star Trek RPG, or the Icon system remains to be seen. I can tell you it will not affect TrekRPGNet!
Second, the Origins awards have been posted and you may now vote online. It is especially pleasing to see that a number of Last Unicorn Games products have been nominated, including Star Trek: Deep Space Nine Roleplaying Game for "Best RPG." Please head to the GAMA web site to vote online! Many feel that the excellent boxed set The Way of D'era: The Romulans was unjustly slighted in its nomination for "Best Supplement." I would certainly suggest that those voting take the time to write in your opinion on the ballot.
The TrekRPGNet web site moves this week. Please use the main URL and change your bookmarks because the site layout has changed! (The new layout won't go live until the move is completed.) Also, the Discussion Boards will need to be closed towards the end of the week to move them. You've been warned! ;-)
Speaking of web sites, the Last Unicorn Games web site is currently unavailable. I'll mirror the Raiders, Renegades, & Rogues Icon Link later this week, along with the previously-mentioned The Klingons: Blood and Honor preview.
---
Stardate 0605.00
Several important changes are in the works. First of all, TrekRPGNet is moving. Our current web host is too small to handle our growth, especially considering the amount of use our Discussion Boards receive and the impending launch of DuneRPGNet. With that said, our new site should also eliminate those annoying '505 - Internal Server' errors and supports several new technologies that I'm eager to employ in TrekRPGNet. The move is underway as I speak, so expect some bumps during the next week.
Second, I've narrowed down our applicants to a handful to contact regarding positions at Trek/DuneRPGNet.
Next, along with moving the site, expect a re-launch with new graphics site-wide and some spring cleaning.
Oh, and some little bits that escaped me: you can now download the Raiders, Renegades, & Rogues Icon Links from the Last Unicorn Games web site. Way cool stuff. Look for a two-part exclusive PDF preview of The Klingons: Blood and Honor shortly as well. Finally, congratulations to Steven A. Cook of Ontario, Canada who won the Star Trek: Deep Space Nine RPG and Star Trek: Deep Space Nine Narrator's Toolkit giveaway! Stay tuned for more contests and free LUGTrek goodness to giveaway soon!
---
Stardate 0522.00
It's time for a long-overdue update. I'm not going to make any excuses or offer you some weak explanation as to why new content hasn't been appearing on TrekRPGNet with the regularity of months past. I will tell you that I have no intention of relinquishing TrekRPGNet's position as the premiere source of fan-created gaming material for Last Unicorn Games' line of Star Trek RPGs. I've work too hard and too long to do so.
While other sites may try to emulate us or build off of our success, TrekRPGNet will continue to be the largest repository of free information for your Star Trek RPG needs.
To that end I've opened up submissions for Trek Content Editors to help disperse the workload. Frankly, we have too much material and too few people to get it all online. Lots of material. Hundreds of submissions. If we did one item per day I wouldn't need any more to finish out the year.
Yes, that much stuff.
So, with that said, I'm re-tooling the staff and investing more of my time in getting us up to speed. Just a little more patience. Just give me a little more time. It'll all be worth it. To all those have applied for Moderator or Content Editor positions, I am reviewing applications now and contacting those that look promising. In the meantime our Discussion Boards provide an excellent forum for LUGTrek fans to communicate and interact.
Finally, I'm also gearing up for the launch of DuneRPGNet. All the quality, functionality, and professionalism you've come to expect from TrekRPGNet – now for Dune.
Carry on!
---
Update Stardate 0003.17
Happy St. Patrick's Day from the Mad Irishman! I'll be doing updates all weekend, primarily to the Personnel and Utopia Planitia sections, but be sure to look around for other stuff. I'll also be uploading a copy of my Starfleet Marines sheet. Many who know my position on the subject know I don't believe in 'em, but heck, a lot of people out there are running games with them, so what the hey. Enjoy.
- Patrick
Update Stardate 0002.20
A second contest has been added -- open call to design the future TrekRPGNet logo! Click here for more details on how to enter!
Stardate 0002.19
In addition to an update of our Discussion Board area, the online contests have returned! You can enter to win a fabulous free prize of Star Trek RPG products from TrekRPGNet free! What other sites offer you the chance to win free stuff?
If you haven't noticed, we're getting back in the swing of things, which means keep on the lookout for lots of new content coming your way soon. We're moving at warp speed ahead and we're going to make any nay-sayers out there eat their words!
---
Stardate 0002.11
We're back in action, and along with some updates to the artwork section, we have lots of new stuff in the Computer Core, including a long-overdue mirror of the Mad Irishman's character sheets and forms, a character generator, and all kinds of other goodies! I managed to clean out a third of my inbox today.
Those of you who visit the Discussion Boards regularly know that we have added the very capable Owen Oulton to our editing staff. Welcome aboard, Owen! That should help ease the backlog that the site has been under for months...in the meantime, keep those submissions coming!
Lots of new stuff has come out since our last update...Among the Clans: The Andorians for TOS, Raiders, Renegades, & Rogues for DS9, and the Expanded Universe supplement All Our Yesterdays: The Time Travel Sourcebook!
We apologize for the long wait. There will be another site update by the end of next week.
---
Stardate 9912.14
The Star Trek: Deep Space Nine RPG has been spotted in stores! Also, you can preview several chapters in PDF form from the Last Unicorn Games website!
We've also done two small updates, now detailed under What's New. Also underway, behind the scenes, is a revamp of the site to better handle all the information we have online.
News/Rumors: TOS Time Travel manuscript in layout, to printers soon...DS9 Narrator's Toolkit also in stores now...Klingon Boxed Set in layout (it's going to be there for awhile)...TNG To Boldly Go exploration book being written...exciting DUNE news to share in the near future...Among the Clans: The Andorians now printing, look for it by the end of December.
Remember, you heard it here first!
---
Stardate 9909.30
As many of you noticed, the past five days have had a number of "500 Internal Server" errors. After several days of contacting my brain-dead ISP about the problems, they have been, at last, fixed. I don't know about you, but my idea of tech support isn't sending them the solution to fixing the problem and waiting for them to do something about it. (Turn out, my diagnosis was spot on.) Short story is that everything should be working with no data loss.
Update 9910.01 - The Internal Server errors have returned, albeit not as badly. I continue to hound my provider for a resolution.
It slipped my mind to mention that the Last Unicorn Games web site has a brand new, spiffy-looking, chat site, called lugChat! Check it out! It's a web-based Java client that's really cool and easy to use. This would appear, to me, to be the logical choice for people to use to talk about LUGTrek real-time. It's only a week old, so give it some time to get really popular. If there's no one around, hang out for a bit and see who shows up! I know that LUG employees, myself included, make frequent and unannounced visits to hang out!
Another update this weekend.
---
Stardate 9909.24
Although the floodgates of updates haven't started, we've put up a small helping of material to whet your appetite. Of course, it just wouldn't be the same without a Priority One editorial from yours truly.
The Starfleet Academy Boxed Set is off to the printers. Look for it probably in three weeks as it takes some time to print and assemble. The Deep Space Nine Core Game Book is finishing up layout. It heads to the printers in two weeks. The Star Trek (Original Series) Narrator's Toolkit should be in stores now!
---
Stardate 9908.25
At long last, the TrekRPGNet Discussion Boards have returned! Bigger. Badder. Meaner. Leaner! Lots of new features, much better than the old. The old boards were such an overwhelming success, that I could not help but make the best possible discussion area for our visitors! Click here to check them out!
Also, it has been confirmed that Holodeck Adventures is now shipping! You can either wait for it to appear in your local store within the next two weeks or order it online today from Last Unicorn Games!
Now that the server move is complete, the new boards are up, I think the next bit of business will be some brand spanking new material!
---
Stardate 9908.18
Rumors of my death have been greatly overstated! I've survived a new server move, a tornado in Salt Lake City, and most of all, Gen Con! By my greatest test is yet to come:
Okay, I know you thought you've seen it all, but Last Unicorn Games is now offering weekly online auctions! What you say? We can't do that? We're insane? Of course we are! The inaugural kickoff is this Thursday and here are the wonderful items that will be up for bid:

1. Star Trek: The Original Series Core Game Book autographed by Walter Koenig
Starting bid - $35.00

2. Jeri Ryan autographed cardboard stand up.
Starting bid - $35.00 (This item runs for one week until close of auction
on 8/26.)

3. Complete set off all 11 books LUG prints and 1 minis line.
Starting bid - $100.00 ($253.00 Value.)

4. VIP Tour of Paramount with LUG staffer of choice (Pick me, pick me!)
Starting bid - Open bidding (Travel/airfare is not included)

5. Complete set of Heresy Cards
Starting bid - Open bidding (This item will also run for one week until
8:00PM on 8/26.)

6. Match Proof of DUNE Core Game Cover autographed by artist Mark Zug
Starting bid - Open bidding

7. Dinner with "Origins Award Winning Line Developer Ross Isaacs"
Starting bid - How much do we have to pay you? Lowest bid wins. (Travel/airfare is not included)

The auction will run from 6 - 8 pm (PST) Thursday, August 19. Every winning bid receives a free "Star Trek: The Original Series Narrator's Toolkit!" We will receive bids via telephone (310) 559-9825, fax (310) 559-9827, or email sales@lastunicorngames.com. We will update the website as fast as possible to show the current bid via a new online chat facility. If we receive two equal bids, the one received first gets priority. Items 2 and 5 can be bid on for the entire week and will close at 8pm August 26.



Inman Young (sales@lastunicorngames.com) is the point of contact for all auction/sales related questions.
---
Yes, the server move is finally complete. This means I can now bring the message boards back online. In addition Patrick has a lot of new material to put up. So, it's going to be a busy week or so around the TrekRPGNet site!
---
Stardate 9908.03
It looks like the message boards are going to be down a few more days. The cgi-script has been giving me some problems and with my being out of town for Gen Con, a quick solution doesn't appear to be lending itself!
Stardate 9907.30
Excuse me. I found this image just lying around? Does anyone know what it's for?
Check out a Priority One exclusive article for more new covers! Also, new material put online as well.
The TrekRPG Net discussion boards are currently down and unavailable due to the server move. I apologize for the inconvenience.
---
Stardate 9907.22
Yes, we're moving again. Don't worry, this one will be much smoother than before. Look for a series of new LUGTrek covers this weekend, including the Players' Guide, TOS, and TOS Narrator's Toolkit.
Stardate 9907.15
The new Last Unicorn Games web site now has the Icon Link material from The Way of D'era: The Romulans, online. Check out this free information for your game!
Allen Owen of Tuscaloosa, AL was the winner of the LUG/Origins contest. Allen won a copy of Star Trek: The Original Series Core Game Book! He'll be getting his before anyone else in America! (Humm, wonder if it will be signed, too?)
Oh, and it that wasn't enough, The Players' Guide is at the printers now. Look for it in the beginning of August.
---
Stardate 9907.07
The new Last Unicorn Games web site has gone live today. Best of all, the Way of D'era is shipping and you can order the product online today!
Stardate 9907.03.12
Thirteen new species put online.
Stardate 9907.03
In case you missed the news, Last Unicorn Games won the 1999 Origins Award for "Best Role-Playing Game!" Congratulations to the staff of LUG for a job well done! A word of "thanks" goes out to all Star Trek fans that voted to help propel LUG to the winner's circle!
The site will be undergoing updates all weekend long. If you run into problems it is likely because you visited right in the middle of an update. Try again in a few minutes. (Like the new "cleaner" format?)
In case you missed it, Planets of the UFP and Planetary Adventures are in stores now! Go pick yours up today! The Romulan Boxed Set, Way of D'era is printed and ships to distributors on July 6th. For a Priority One review of the product, click here!
---
Stardate 9906.21
My DSL connection went down over the weekend, making updates rather difficult. Here is a small interim update until the remaining new pages can be put online.
---
Stardate 9906.18
The server move that has been taking place through the week is nearly complete. Stay tuned over the weekend for a sizable update of new material. The discussion boards will be moved and/or installed as well.
I appreciate everyone's patience during this move.
A winner for the Planets of the Federation has been selected and will be announced shortly. I'm also penning a Priority One article on my recent visit to the offices of Last Unicorn Games.
---
Stardate 9905.25
I'm back from vacation and visiting the offices of Last Unicorn Games! What a wonderful trip!
This weekend (the 11th - 13th), TrekRPGNet will be undergoing several server updates. Among them, the Discussion Boards will be re-done. Expect the site to be slow, in a state of confusion (more than normal), or outright unavailable. I hope to minimize the necessary downtime.
BTW, we're moving. I'm sick of our current web provider. (Had to get that off of my chest.)
---
Stardate 9905.25
Last Unicorn Games has launched an officially sanctioned contest in conjunction with their nomination of "Best Roleplaying Game" by the Academy of Adventure Gaming Arts & Design. A Priority One transmission! Read all about it here!
A correction on Planets of the UFP, Volume 1: distributors should have the products on 5-28 and retailers should begin to receive copies around the 2nd of June. The Memorial Day weekend may slow the whole process down.
Finally, a hearty congratulations to Paul O'Donoghue from New Zealand for winning a copy of A Fragile Peace: The Neutral Zone Campaign Volume 1! Our first international winner! Make sure to enter now for your chance to win a copy of Planets of the UFP!
---
Stardate 9905.21
The Game Manufacturers Association (GAMA) has announced the nominees of Best New Role Playing Game, of which Star Trek: The Next Generation RPG has been nominated. Print the PDF ballot and send in to cast your vote!
The fourth TrekRPGNet contest has started. Enter to win a copy of Planets of the UPF, Volume 1 -- before anyone else!
Speaking of Planets of the UFP, it shipped to distributors on the 21st and will be in stores by the end of next week. The Romulan Boxed Set ships soon as well.
Lots of new content was added -- check the What's New section for more details.
---
Stardate 9905.12
I have a large list summary of information to share, along with some new covers, so I made a Priority One article out of it. Read it here.
A winner will be selected shortly from The Fragile Peace contest. Yet another contest will begin soon. I haven't selected the new prize yet -- too many choices!
---
Stardate 9904.28
Enter now to win a free copy of A Fragile Peace: The Neutral Zone Campaign, Volume 1! This, our third contest, will go until May 8th and is open to all visitors, not just those from US and Canada.
---
Stardate 9904.26
Congratulations to James Rood of Huntington, WV for winning a free copy of The Way of Kolinhar: The Vulcans! James, you should be receiving it any day now! The next contest to win a copy of A Fragile Peace: The Neutral Zone Campaign, Volume 1 will begin shortly. Keep on the lookout! (International visitors, your requests are about to be answered.)
As a reminder, the TrekRPGNet Discussion Boards have been launched! The response has been amazing, far beyond what I thought. Stop on by and come chat on any number of topics.
---
Stardate 9904.16
The TrekRPGNet Discussion Boards have been launched! I've had a few people request a message board for awhile and have at last found one that I liked (I'm very particular). Use the LCARS interface to the left to go to the message boards -- it will spawn a new window. I hope you'll stop by and have a chat!
Now that the Discussion Boards have been completed I'll pause to pull the winner from the second contest!
---
Stardate 9904.12
Ahhha, the three words every gamer loves to hear: "more new material." The Mad Irishman has begun his tenure with a fury and put some nice juicy bits online for your enjoyment today.
The second TrekRPGNet contest to win The Way of Kolinhar: The Vulcans, has ended. The winner will be announced shortly! Keep your eyes open for the third contest, just around the corner!
---
Stardate 9904.07
Patrick Murphy (aka the Mad Irishman), creator of some fabulous LUGTrek material, character sheets, and designer of the original Netbook has come on board TrekRPGNet to assist in the development of the site! So, a big welcome to Patrick! You can drop him a line at editor@trekrpg.net. Patrick's assistance will be valuable in getting new material on the site faster and maintenance issues.
A new e-mail account, submissions@trekrpg.net, has been setup to handle all submissions as well.
---
Stardate 9904.05

Congratulations to Carl Judisch of Vero Beach, Florida, the winner of the first TrekRPGNet contest! Carl won a copy of The First Line: Starfleet Intelligence Handbook for entering. It's in the mail, Carl! You can still enter our second contest, to win your own copy of The Way of Kolinhar: The Vulcans! Free!
I also have an exclusive report from Last Unicorn Games regarding their recent showing at GAMA 99 in Las Vegas. Read it to find out about some of the new products you'll be seeing this year.
---
Stardate 9904.02
Today, in honor of being back up, is the launching of our next contest! That's right, you can now enter to win your own copy of The Way of Kolinhar: The Vulcans! Free!
There has been a bit of downtime in the past 24 hours that could not be avoided. I apologize for the inconvenience! All I can say is that I made a very large mistake, one I would do anything to take back, and that to error is human, to really screw things up requires you to be human and to have access to a computer.
---
Stardate 9903.22
The contest to win a copy of The First Line: Starfleet Intelligence Handbook is over. The entries are being processed and a winner will be announced shortly. Good luck to all that entered!
Keep watching for the results and our next contest: a chance to win The Way of Kolinahr: The Vulcans!
---
Stardate 9903.22
Update: The upcoming product catalogs have been updated for all three game lines. A section for the miniature line of products coming "soon."
Some housekeeping updates plus the inclusion of a new area, Priority One. Priority One is a new section where you will find feature articles, interviews, and previews all related to the Star Trek RPG. Take a peek and keep your eyes open for new stuff appearing there regularly.
The contest has become a big hit! So big I'm extending it through the 28th! A full week seemed appropriate. Yes, there will be more; at least three more in the following weeks. Care to take a wild guess at what other products you can win for free? <grin>
Artists -- contact me. I would like to feature appropriate artwork on the site and the really good stuff I'll forward on to LUG.
---
Stardate 9903.20
The first TrekRPGNet contest is now online! Click here to enter yourself to win a free LUGTrek product!
Free! Is that cool or what?
---
Stardate 9903.11
I've posted an editorial message about some of the changes are are in the wind for TrekRPGNet. Pretty much a "must read" for anyone who visits the site. (That means you!)
There will be some updates tomorrow as well.
Oh yes, congratulations to TrekRPGNet for going over 20,000 visitors! Wow! Thanks everyone for stopping by!
---
Stardate 9903.10
Boy, I've got some great news to share with you all and you'll want to keep checking back in the next few days! I'll give you a glimpse of what to expect:
Details on the upcoming LUG releases through 2000! <drool, drool>

Exciting news about this site and an exclusive arrangement with LUG!

A contest to win some hot new products before available in the stores!

Oh, and did I mention tons of new content?
I'm just giddy with delight!
---
Stardate 9903.03
Reports are filtering in that the new product have been sighted in stores! What are you waiting for? Run out and buy The Price of Freedom: The United Federation of Planets Sourcebook and A Fragile Peace: The Neutral Zone Campaign Volume 1 right now! :-)
Spoke with "my source" (heh, I just love saying that!) today with some new juicy bits:
The Romulan Boxed Set, The Way of D'era will include a modified character generation system for use with Romulan characters.

Planets of the UFP will also include some new custom worlds designed by LUG never before seen.

The Engage! starship miniatures system, still in development, will not be platform-dependent and may or may not include starship construction rules depending on available space. Otherwise starship construction will be a stand-alone product (or part of something else).

A new combat system will debut in TNG Companion product, due in June. A variation of it will also appear in the Klingon boxed set.

Weekly "Developer Diaries" or updates will debut on the LUG web site sometime this week. These are quick blurbs of what the various Line Developers are up to during that week. The plan is to regularly update it.
Remember, after reading this you must turn yourself in to the Tal Shiar as this information is highly classified. Long live the Praetor!
---
Stardate 9903.02
Ah, my personal quest has been filled. <grin> Click on some for a larger image.
A big "Thank you" to Christian, Ross, and Matt for their help in getting these.
Still no news of sighting of the new products in stores, which is kind of surprising. The products should be out "soon."
Yes, no real content updates for awhile as I have been exceptionally busy writing (guess on what). I do have a long list of submissions to get online so fear not, lots of new content coming your way soon!
---
Stardate 9902.22
No sightings of the new product yet but you should be seeing it in stores by the end of the week, perhaps as soon as tomorrow!
I've added the third installment of the "Product Information" pages for The Star Trek RPG (TOS). Obviously since this game is so far off still very little is known but there are some juicy bits to share! These pages are now linked from the "Game Information" section.
With the completion of the "Product Information" pages I have removed the "Rumors" page, the single most-visited page on the site save the opening one. All information and rumors that I receive from now on will be integrated into that specific product's "Information" page. There simply is just too much information and news from all the product lines to consolidate into one page.
...and now time for my weekly Voyager rant:
"Dark Frontier" has to be one of the worst episodes in recent memory that I can recall. Talk about mindless, pointless, and poorly conceived. What exactly was the point of this episode? I am so sick of the Borg, Seven of Nine, and "borg technology" that I think I'm going to puke. It's become quite clear that the producers and writers of Voyager come up with these Borg/Seven episodes and slip them in there to boost sagging ratings. Don't even get me started on the whole transwarp drive fiasco...
On a lighter note, Deep Space Nine continues to impress me with its well-done writing and character exploration. Its too bad that I only really started to like this show with the end in sight.
I'm hopeful now that Paramount is releasing the Star Trek movies on DVD that they will do the same with the episodes. Could you imagine TOS or TNG on DVD, two episodes each, digitally remastered, enhanced stereo and with previously unreleased footage and all the other goodies that DVD allows you to slip in? Yummie! (It should be noted that Paramount's releases, to date, are lacking in any enhanced DVD features aside from 5.1 sound and letterbox picture format.) :-(
---
Stardate 9902.16
I've put the product information section online for the Deep Space Nine RPG. A little sparse at the moment but any news is good news! This page, like The Next Generation RPG page, is an orphan and not linked anywhere yet (bad Don, bad).
By-the-way, the Federation: The Price of Freedom Sourcebook is 160 pages, hardbound, and costs $25. I've been told that it looks Tres Cool ™ but my source was biased. <grin>
---
For those that missed it on the mailing list our esteemed line developer, Mr. Ross Isaacs (wave Ross!), brought word that the first new product arrived at their offices. This product (Federation: The Price of Freedom Sourcebook & A Fragile Peace: The Neutral Zone Campaign, Volume 1) is shipping to distributors right now and continues to be on target for a February 23rd release date in stores.
Regarding other covers I am getting nothing but the run-around (grr) and I am trying very hard. I also hope to finish up the Deep Space Nine Role Playing Game section with a list of products and release dates soon.
I think that's the limit of what I can currently share with the public at this time.
Stardate 9902.12
There's a nasty strain of the old rigellian fever out there, so watch out! Put me down for about five days. Fear not, your intrepid webmaster and news hound is back on the case.
Products are rolling off the presses and shipping to distributors now and will then have to ship from the distributors to the retailers (your gaming store). Everything looks to be on track for that 23rd date we've been quoting (perhaps sooner).
If you don't know what products I'm talking about the information section for The Next Generation line should tell you everything you need to know!
Before I forget:
Although I'm quick to criticize "Voyager" for its feeble concept, inept storytelling, and just plain bad writing I have to give some credit to the last episode, "Gravity," which was really well done. At last, some character development! My only real complaints was the handling of Tom becoming a jerk all of a sudden and reading Tuvok the riot act (yea, plot device) and the every Leeloo-esque (The Fifth Element) alien on the planet. Other than that, very enjoyable.
Oh yea, "Voyager" loses yet another shuttle. <heh>
---
Stardate 9902.04
Although it isn't complete I offer a sneak peek into the new product information section. Right now all I have done is the page for The Next Generation RPG. When finished I will have separate pages for each of the four product lines. You can view the page here. These individual pages will have all the combined information for products that I can dig up plus interesting tid-bits.
---
Stardate 9902.03
Introducing the TrekRPGNet link button. Wow oh wow! (Very cheesy, but a work in progress.)

Yes, not really news-worthy but I slapped together a new logo for the main entrance. I got tired of the old one. <heh> Oh yea, new section logos.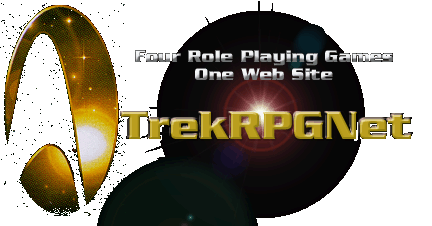 My quest for the day: covers! <picking up phone right now>
---
Stardate 9902.01
Lots of good stuff put online today. Just to let you know what I am working on besides the regular updates: I have planned another tweak of the design layout, specifically to clean up everything under the "Product Information" section for easier use. I am also putting together a catalog section with a breakdown of each upcoming LUG product, description, cover, and anticipated release date in a nice-looking format. Some new front-end graphics to spice the place up and a subscription service so that you can be automatically notified when the pages are updated.
Phase Two, which will be underground, will include new graphics and interface (yes, another one) for inclusion of DS9 material, although the delay of the game has bought me some additional time.
Phase Three, which will take place on a lifeless moon or other planetoid, is Classified at this time. :-)
Still working on pictures of the new LUG covers -- hopefully soon. <fingers crossed>
---
Sometimes it takes another person to tell you that which you already knew but didn't have the heart to act on. One such instance recently arrived when I received some disparaging comments regarding some content here on TrekRPGNet. Turns out that those comments were right on the money.
The quality of material on TrekRPGNet should reflect well not only on the site, its contributors, but the game as well. I would like having your material put on TrekRPGNet to mean something; to say, "hey, this is of a quality that deserves to be shared with everyone." Lately I've been in a bit of a time squeeze and what has happened is that I would hurry and put submissions online, without looking them over with a critical eye.
That stops now.
So, I'm going through the site and actually removing some material. I'm telling you this now rather than just sneaking the stuff out the back door. <grin> (Honestly, we're talking about a very small percentage of the overall site.)
Sounds rather draconian, doesn't it? Well, yes, in a way I guess it does. Lets be frank for a moment. Last Unicorn Games frequents this site as well as countless others. Were I just to throw up (interesting pun) just any piece of material I do a disservice not only to myself, this site, the readers, but LUG and their product as well. That's something I'm not prepared to do. I think visitors stopping by the site deserve some quality instead of having to sort through garbage to find the good stuff. I'd rather TrekRPGNet simply be known for having "the good stuff."
While I sincerely appreciate with all my heart those that take the time to submit material to this site I can no longer blindly put material online with good conscience. I don't expect this policy change to affect the amount of material that goes online -- I still have a large Inbox of great material to put up and I know that many of you will rise to the challenge!
...and now for something completely different...
Voyager's "Bride of Chaotica!" hummm? A holodeck adventure? How 'quaint.' As my wife noted, at least they didn't begin the episode with the ending and lead us through by the nose. We both just hate that! :-)
---
Stardate 9901.29
One minor news update: The Player's Companion has been renamed to simply, The Companion, or more precisely, Star Trek: The Next Generation RPG Companion.
I'd like to remind visitors that release dates do slip and it isn't uncommon at all in this, and many other, industries. A big factor is the price of paper. A simple change in the cost of paper at the printer can adversely affect the cost of doing a print run and your cash flow. Also art can get held up, a re-write may be called for, or when dealing with a licensed product like Star Trek, a manuscript could get tied up in the approval process.
I guess the short version of what I'm trying to say is to cut LUG some slack on release dates. They want to write the material and ship it to us as soon as possible but holdups will happen. They could take the high road and not give out release dates at all, leaving us wondering what exactly is going on. Food for thought.
---
Stardate 9901.28
This is a real long news update but worth it.
I spoke with my contacts at LUG regarding many of the ever-burning questions we have on the new products. Before I tell you what I know let me tell you about what I am allowed to tell you. <heh, heh> The folks at LUG are a pleasure to speak and work with. They have been professional, forthcoming, and honest in every regard. They answer my annoying questions, provide me with details, and are generally just cool guys. However, there are some things that I'm not allowed to pass on and I need to respect the confidentiality of the information. With that said, if I sometimes provide vague answers it's not because I might not know the answer, simply that I can't tell you the answer!
Okay, onto the news...
Products currently at the printer (Federation: The Price of Freedom Sourcebook (hardcover), Starfleet Intelligence: The First Line (softcover), The Way of the Kolinahr: The Vulcans (softcover), A Fragile Peace: The Neutral Zone Campaign, Volume 1 (softcover)) are expected to start shipping on the 17th of February. They will be released in their original shipping order at two titles per month. So here you go, ship and release (in store) dates:
February
Federation: The Price of Freedom Sourcebook & A Fragile Peace: The Neutral Zone Campaign, Volume 1 - ship February 17th, available February 23rd.
March
The Way of the Kolinahr: The Vulcans & Starfleet Intelligence: The First Line - ship March 1st, available March 7th.
April
Planets of the Federation & Planetary Adventures - ship April 1st, available April 7th.
May
The Romulan Boxed Set - ships May 1st, available May 7th.
I should have image covers sometime next week. <fingers crossed>
Second printing (revised) of the Star Trek: The Next Generation RPG is one of those vague areas. No doubt there will be a second (and third, and fourth, and...) printing but no news if it will be revised with corrections of typos and errors. I did ask about errata and currently the most comprehensive list is here on TrekRPGNet. If you find typos or errors it is important that you let us (LUG and myself) know so that it can be added to the list so that when there is a revised printing as much as possible can be corrected. Currently TNG RPG has sold over 20,000 copies (first print run?) and is out of stock. So is the Narrator's Toolkit.
The Star Trek: Deep Space Nine RPG approximate release date: shooting for the second week of June. I can confirm that there will be no changes to the Icon System in the DS9 RPG (not that I thought there would be).
Planets of the UFP Sourcebook: This will be going to the printers in the near future and should be in stores in April followed by Planetary Adventures Sourcebook. These two products are tied together. (See dates above.)
May should see the Romulan Boxed Set released. Please note, when looking this far ahead these dates become very approximate so don't mark your calendars just yet.
Okay, now regarding some "rumors" and things that people have been asking about. I have had three people within the last week ask about the product listing at barnesandnoble.com for Last Unicorn Games (this link also includes some info on their upcoming Dune RPG). Here's what I can tell you just from my own personal knowledge: the product titles and release dates come from distributors which comes from LUG months prior to the shipment of the products to generate some interest. Unfortunately many of those release dates have slipped so they are obviously wrong. However, do/will the products exist? Yes. So, there's my bit of conjecture for the day. As for the actual titles, read on...
Star Trek: Deep Space Nine Role Playing Game, $35, hardbound. We pretty much know about this already. Should be out in June
Star Trek: Deep Space Nine Narrator's Toolkit, $16, softbound. Makes sense. TNG Narrator's Toolkit reworked for the DS9 game. Also a June release.
Star Trek: Deep Space Nine Pirates, Merchants, and Rogues, $20, softbound. Aside from the suggested price we already knew about this one. A July release.
Star Trek: The Next Generation Operation Stormbird Advanced, $16, softbound. Don't expect to see this until November. It is the second part of the Neutral Zone Campaign series. (So its official title is Operation Stormbird: The Neutral Zone Campaign, Volume 2.)
Star Trek: The Next Generation Player's Companion, $25, softbound. Yes, this one is planned but I can't comment on its contents at this time. Release date unknown.
A tactical miniatures game is in development but it's too soon to talk release dates. Keep in mind that these products have to be released in tandem with the actual miniatures so the release dates have to be done in conjunction with other companies. In addition to the tactical miniatures rules there will be "Battle Sets" that are boxed scenarios with rules for specific types of engagements. The first one, after the miniature rules, will be The Battle of Wolf 359. A series of scenarios will lay the groundwork of the Borg invasion and lead up to the climatic battle of Wolf 359.
Okay, enough about TNG. Lets talk DS9. As I mentioned above the Star Trek: Deep Space Nine RPG is slated for a June release. It will be followed by the Deep Space Nine Narrator's Toolkit also in June. In July will be Pirates, Merchants, and Rogues! for the DS9 setting. The Cardassian Boxed Set is scheduled for October and will cover all of the Cardassian Union, planets, and the DMZs. The last DS9 product of the year (season) will be what is simply being called right now, The Bajor Book. This details the Bajor system, the worlds, and of course, the wormhole.
With TNG and DS9 aside that leaves...The Original Series (TOS). I have no dates but here are the books slated for a 1999 release for the TOS line of products:
Star Trek: The Original Series RPG
Star Trek: The Original Series Narrator's Toolkit
The Andorians
The Mirror, Mirror Boxed Set
Please note these are really far off so dates are unavailable. I have some information on the contents of these products but that's very likely to change so no point in discussing it right now.
So, that's "all" I know. I'll continue to update you as I find out more and can pass it on. My sincere thanks to Last Unicorn Games for making this information available not only to myself but the public as well.
---
Stardate 9901.26
Ugh. Why didn't anyone tell me that those fonts were so darn large! I finally broke down and took a look at the site on a 14" monitor at 640x480 and 800x600 and the fonts were so huge! I will be going through all the pages and lowering the font size.
Within 24 hours of putting up the navigation bar two things became apparent: I didn't like the overall look and I misspelled "Planitia." Doh! The new and improved navigation bar debuts for your approval.
Content updates later this week.
---
Stardate 9901.25
This week I will continue to update and tweak the site. I have also started using a size smaller font to help increase the amount of information displayed. Users of 640x480 and 800x600 resolutions should be able to see more with less scrolling. On my 1024x768 it isn't difficult to read at all. Please mail me with objections as it isn't difficult to switch back to the old font size.
I will try to get an update on the latest products and their statuses.
The Personnel Records section is coming along great. I've gotten quite a few submissions but we need more! (Woo hoo!) As a reminder, these characters are being put online as a role playing aid to other Narrators. The Personnel Records section is not intended to be a "Hall of Fame" or a collection of the greatest and most buff characters around. Twenty page backgrounds are appreciated but unnecessary. Brevity and simplicity is perfectly acceptable! (I created five characters just last night that will eventually be put online.)
Anyone besides myself roll on the floor with laughter in "Voyager" when the Doctor (EMH), in all actuality the ship's computer, spends two weeks in counseling?!?! Why can't anyone write a decent script for that show that doesn't involve: a) the Borg, Borg Technology, or Seven of Nine, b) shows that begin with the ending and then lead you by the nose on how they got there, c) holographic adventures and mishaps, or d) the ship getting waged each week by humanoid-looking aliens with rubber prosthetics glued onto their faces and being fully repaired by the next episode? Oh well, we'll always have reruns...
---
Stardate 9901.22
By now you've probably noticed the new title and navigation bars for the site. This is the first step of a re-design in preparation for the upcoming Deep Space Nine: Role Playing Game. Up till now I've only had to design the site around one game, not two (or three, or four). I'll be tweaking the format a bit so you can send me your comments.
I will also now be updating the text you are reading, the Site News, more regularly and keeping an archive of it online (see link to left). This is so those of you who missed updates can go back and read prior news.
To answer the question that everyone asks me: "Where are the new Star Trek products from LUG?"
I haven't called them this week but the last I heard was that no less than three products were at the printer and a fourth on the way. Printing was held up for various reasons but was expected to be resolved soon. Of those products at the printer the chances are very good that you will see some, if not all of them, within 30 days. The products in question are (in no particular order): Federation: The Price of Freedom Sourcebook (hardcover), Starfleet Intelligence: The First Line (softcover), The Way of the Kolinahr: The Vulcans (softcover), A Fragile Peace: The Neutral Zone Campaign, Volume 1 (softcover). Because the Federation Sourcebook is hardbound that could impact how long it takes to print. These products have been written for some time and LUG is just as eager to get them to you as you are to get them from LUG!
I can't comment on the status of the Deep Space Nine: Role Playing Game so please don't ask. :-)
Earlier this week the Last Unicorn Games web site finally went "live" with some content for their Star Trek products. It's rather sparse but by all means, take a look!
The information that was online for subscribing and unsubscribing to the "trekrpg" Internet Mailing list was incorrect. I hunted down the proper commands and updated the page. Sorry for the confusion! :-(
I have added a Personnel Records section to build a database of NPCs and PCs for Narrators to use in their campaigns. Frankly, it's a fantastic idea and hope all of you out there will consider submitting your current LUGTrek characters so everyone can use and enjoy them. Imagine needing an engineer character at the last minute for your Star Trek campaign, coming here and having five ready-made NPCs at your disposal. Cool, huh? :-)
Finally, I have also added a Site Comments section with some bits of the feedback I get from viewers. If you wish to send a comment to me, good or bad, use the Hailing Frequencies link to the left. Although I can't always write back I do read all my e-mail.
---
1/19/99
It turns out with the switch of the listserve software at RPGnet that the old instructions online for subscribing to the list were wrong! I have corrected the information so that new members can now subscribe to the list. Apologies all around. Follow this link to find out how you can subscribe!
The submission guidelines have also been updated. This is due in to the large number of submissions that I receive. I will still take submissions in any format but if you follow the submission guidelines your material most certainly will get up online faster than those that don't. (Simply because I don't have to do as much work to put them online and that's the reason for the delay between updates.)
---
1/16/99
I added a new ship and updated two others while doing some work this evening. A huge update is in the works along with a redesign of the site. You patience, as always, is appreciated. (As well as those that have dropped a line with some kind words.)
Star Trek® and all related marks ™, ®, & © Paramount Pictures. Star Trek The RPG™ and all related products are © Last Unicorn Games, Inc. Individual works are the property of respective authors and may not be reproduced without permission. HTML code, layout, and custom images are property of TrekRPGNet and may not be reproduced without permission. See the legal page for more information.